GUESTBOOK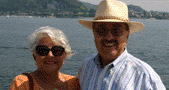 Richard and Bernie Ardemagni – Arkansans, U.S.A.
Gianluca, here are some photos from our recent trip to your most beautiful country. Also, please pass our most grateful thanks to your Mother for lunch.  We could tell that she did a lot of preparation for us and we most definitely appreciate the hospitality extended to us. Please tell everyone hello and thanks from us.
Richard and Bernie Ardemagni
---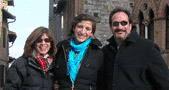 Gina Delli gatti and her family.  New Jersey, U.S.A.
Hi Gianluca, We are back home in New Jersey after our wonderful Italian vacation. Unfortunately, tomorrow it's back to work and school. We wish to thank you very much for your help and for being our knowledgeable guide through Umbria. We all enjoyed your company.Hope you had a nice time in Milan. I will send you some photos of Umbria for your web site this week. Good luck with everything and I will see you in April when I return to Perugia.
Warm Regards,  Gina DelliGatti
---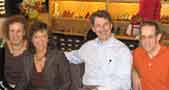 Mary and Peter – Boston, U.S.A.
Gianluca,I just wanted to say thank you for the great time we had with you in Umbria and Tuscany. I can't wait to see us on the website!!! Especially Prada! You were the best driver and gave us the most fun memories.
All the best, Mary and Peter.
---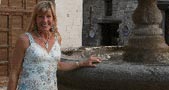 Carole – Hawaii, U.S.A.
Thank you for such a wonderful time while I was in Umbria. I enjoyed your company very much. I have such special memories of my vacation in Italy and I look forward to coming back soon. It is also great to be home. My dog was here to greet me with many kisses. My computer had problems when I returned home and I was unable to download my photos to send them to you. But it has been repaired and I am slowly catching up. I have made photos to send to you and I will send them to your address in Trevi. I hope your guest from North Carolina were nice. Please keep in touch and thank you again! Grazie!With Aloha. Carole
---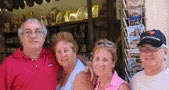 Bob, Roberto, Irene and Sherley – Sydney, Australia.
Ciao Gianluca, com'è la vita nel bel paese? Comincia a fare freddo adesso? mia moglie si chiama Irene i miei cognati sono Bob e Shirley, quando svilupperò le foto ti mando le copie, salutami Monica credo che era lei che ci prese in macchina per portarci su nel paese, stammi bene Gianluca e spero che un giorno ci incontriamo di nuovo, saluti e ciao.
---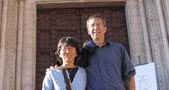 Arthur and Yumiko California. U.S.A.
Dear Gianluca, It was good to hear from you. We are fine and have wonderful memories of the day we spent with you in Umbria. Thanks for the photos. Feel free to use them on your website. We will let you know if we need any typical Umbrian products. It would certainly be fun to do this.
Best Regards, Arthur and Yumiko

---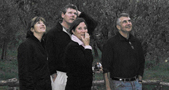 James , Mary  and their friends – Seattle, U.S.A.
Gianluca, We had a great time visiting your beautiful country. The trip to the olive fields and seeing the presses was very educational. Someday maybe you can visit all of us in the northwest United States. By the way Mary already received some dishes and they are great looking. Hope all is well and you are staying busy.
I can still taste the blackened celery… take care Jim.
---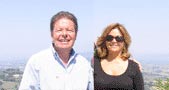 Rene' and Bruce Desfor – Miami Beach. U.S.A
Hello GianLuca, How are you? We are finally back in Florida since yesterday. I am, today, printing out the photographs from the wonderful luncheon at your family home in Umbria and will be sending them to you at the end of the week. Thank you very much for all of your many kindnesses to us during our visit. We will remember it always. Regards to your mother, father, sister, brother-in-law and your two nieces and of course to your Aunt. All the best.
Renè and Bruce Desfor